So I had something Big I had to talk about and it was something I found from a guy on discord called misterkonglad who found this on somewhere else and it was a private interview of Matt Braly and it was about two very interesting he things about.
He said that Sprig was inspired by frogger and no I am not talking about the original arcade game but the frogger from the 200's that had frogger as an anthro frog at that time.
The Frogger game he played and love back then was Frogger's Adventures Temple of the Frog, Frogger Advance The Great Quest, Frogger Beyond, Frogger's Adventures 2 The Lost Wand, Frogger's Journey The Forgotten Relic, Frogger's Adventures The Rescue, Frogger Ancient Shadow and Frogger Helmet Chaos. Expect for Frogger The great quest because he never played that and Matt said
''I never did played that one and I had heard it wasn't good but hey if I ever had the free time to do it maybe i might try it out''
Matt really loved this version of frogger at the time he like the world and characters in the games he also was inspired by them and some of the characters were inspiration of the characters he made in the show like Sprig who was inspired by this version of frogger.
A concept art of Sprig as a green frog is kinda how similar to how frogger is a green frog.
https://vignette.wikia.nocookie.net/amphibiapedia/images/a/a0/Sprig_development_drawings.jpeg/revision/latest?cb=20190726085711
Also another concept art of Sprig has him with a design somewhat similar to Frogger's anthro design https://vignette.wikia.nocookie.net/amphibiapedia/images/1/19/Sprig_Plantar_Concept.png/revision/latest?cb=20190610135358
After Frogger Helmet Chaos the other frogger games that came weren't what Matt expected and was very disappointment
''The Games that came after were just a big disappointment to me and i was meh on them, Like these frogger games I played were great and If you like these other newer ones that's okay but it's a real shame there hasn't been a New one with this type of look and style agian, I know I'm not the only one since others like me did grow up and love this version of frogger I only do hope one day Konami will bring back this version of frogger agian in a new game or a Remastered Trilogy or just Both but only time will tell when that ever happens.''
The Other thing Matt said about why was the show renamed to Amphibian was because a friend told him that Amphibiland was already used in another show called Kulipari.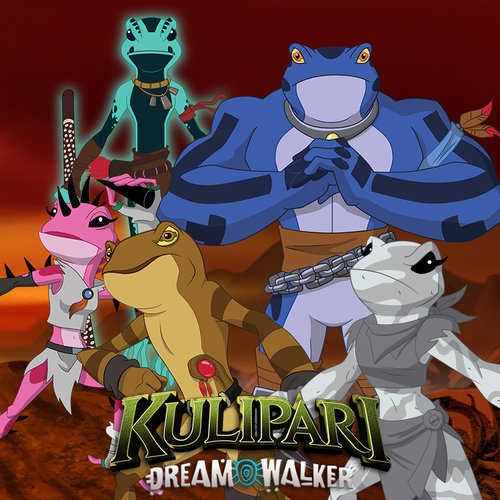 So what is Kulipari? well it was a Netflix show that was based on a book the show is about a hidden village of frogs. For many years the inhabitants of the Amphibilands have lived safely, protected by a magical Veil and an elite group of poison frogs called the Kulipari. The story begins with the frogs of the Amphibilands finding their homeland threatened by an army of scorpions teamed up with the magically powerful Spider Queen. Our hero, Darel, a young frog that has always dreamed of joining the Kulipari despite his lack of poison, finds himself at the front of the battle. With the help of his friends, Darel must overcome his anxieties to embrace his dream of becoming a Kulipari warrior and save all the frogs from extinction.
Because of this Matt had to renamed to the show to Amphibia just to not get sued by the creator of Kulipari and had no clue about that before when created the pilot for the show.
So who would knew that Matt was a Frogger Fan and that Sprig was inspired by Frogger who would of know and we don't know whats next Matt will revealed later on we just gotta wait and see.