Hopediah "Hop Pop" Plantar is the tetragonist of Amphibia. He is the traditional and over-protective grandfather of Sprig Plantar and Polly Plantar.
Appearance
Hop Pop is an elderly anthropomorphic frog of small stature. He has mostly reddish-orange skin with a light orange chin and chest.
His casual frog-like body structure consists of slightly reddish-orange eyes with black pupils, a dark green tongue, four short limbs with four-fingered hands, and two-toed feet and white tufts of hair coming out of the sides of his head.
As his everyday clothing, he wears a grayish-green waistcoat with a buttoned yellow shirt and a light blue ascot and grayish-brown trousers with light brown socks that slightly cover his feet.
Personality
Hop Pop is described as a traditional and over-protective of his grandchildren. He also tends to have a high sense of paranoia whenever he feels something is, or something is bound to go chaotically wrong. As seen in cases such as "Best Fronds", when he woke up from his nap in his study, he feared that Anne might've eaten Sprig, Polly, and practically the entire town.
He also seems to mistrust the other Amphibians, saying that they are small-minded and paranoid, an ironic statement since he seems to be like that as well. He is also shown to be very dishonest.
Foreign voice actors
Relationships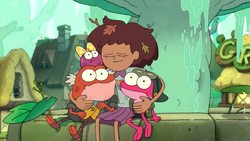 Click here to view the relationships of Hop Pop Plantar.
Sightings
Trivia
Behind the Scenes
Early Development
In "Amphibiland", Hop Pop was originally going to sport much different clothing, a rounder head, and smaller eyes than his final design.
Name and Basis
Hop Pop's name references the fact that he's the "poppa" of Sprig and Polly and the fact that frogs are known for hopping. His appearance also suggests that. His full name is Hopadiah Plantar and Hop Pop is his nickname.
Voice
Hop Pop is voiced by Bill Farmer, known best for the voice of Goofy. His voice is high-pitched with a slight southern accent, a common stereotype for farm characters.
Debut
Hop Pop made his debut in the series premiere, "Anne or Beast?".
Gallery

Click here to view the gallery.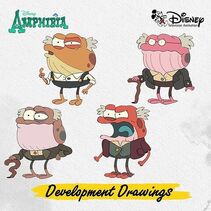 To view the various designs of Hop Pop Plantar, click here.
v • e
— Main Characters —
Community content is available under
CC-BY-SA
unless otherwise noted.